Picking the right installer is a crucial step is making sure your floors are installed properly. By working with a Stateline Flooring
Certified Installer in your area, you can be sure that your floors are installed and it stays that way for years to come.
Our installers are vetter by a team experts and they recieve on-going product information and support from Stateline Flooring.
Our knowledge in this industry and years of experience ensures that our installers expertly install any Stateline Flooring products.
*We do not do the installation. This is purely a referral service. We refer you to vetted flooring installers to get your floors installed flawlessly.
Hire a Verified Installer for just $2.95 per sq ft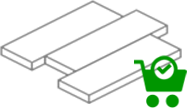 Purchase Your Floors
Browse through our collection of floors from top brands & purchase the floors you like.

Request an Installer
Tell us about your project and receive leads from 3 verified installers near you.

Get Your Floors Installed
Get your floors flawlessly installed for a fixed price of just $2.95 per square foot.
Our Work